Malinové srdce (bezlepkové)
Netajím se tím, že nemám tyhle 3D dorty ze silikonových forem ráda. Asi proto jich na mém blogu moc nenajdete, tenhle je vlastně asi první  Což o to, vzhledově jsou moc hezké, ale na mě je tam prostě hrozně málo "buchty" a příliš mnoho nadýchaného krému. Nicméně tuhle formu jsem dostala jako dárek, pravda, tak trochu zlomyslný, a tak jsem se překonala a něco vytvořila.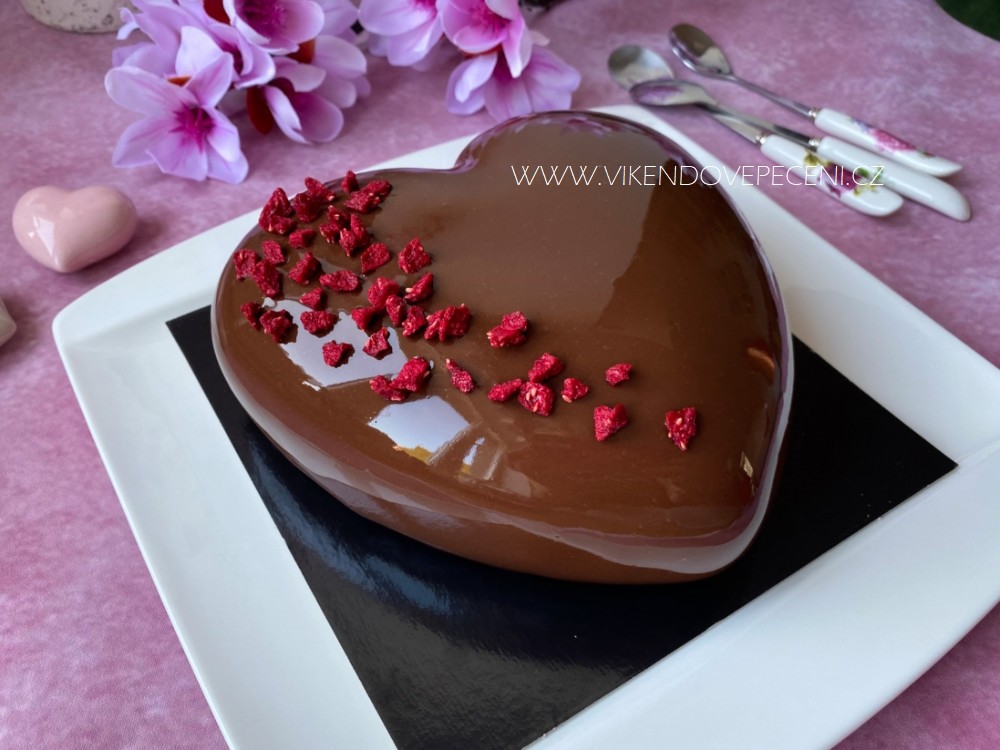 A musím říct, že jsem s výsledkem celkem spokojená. Nepouštěla jsem se do žádných složitostí o deseti vrstvách, myslím, že dva krémy jsou pro začátek tak akorát. Chuťově jsem vsadila na osvědčenou kombinaci malina a čokoláda, a byla jsem sama překvapená, jak to bylo dobré :)) S formou se dobře pracovalo, dortík šel krásně "vyloupnout" i polévat. 

Pokud jde o přípravu, tenhle dort se nijak zásadně neliší od mini dortíků, kterých mám na blogu už několik. Výrobu je potřeba rozfázovat do několika hodin a dní. Něco si můžete připravit předem, jako třeba upéct korpus nebo čokoládovou polevu. Každopádně dort je potřeba nechat pořádně zamrazit, aby šel dobře vyndat z formy a následně polít. 
Chocolate body (diameter 17 cm):
2 eggs, separately
60 g of semolina sugar
30 g dark chocolate 55-65%
30 g whipping cream 33%
20 g of rice flour
10 g of cocoa

Preheat the oven to 175 degrees, line the bottom of the 17 cm diameter cake tin with baking paper. Heat the cream and pour over the chopped chocolate. Let stand for a while, then stir until smooth, allow to cool. In a bowl, mix the sifted flour and cocoa. Whisk the egg yolks with a third of the sugar into a foam, then mix the cooled chocolate mixture and flour with cocoa. Whisk the egg whites and the remaining sugar, mixing them in portions into the dough. Pour the dough into the prepared mold and bake for 25-30 minutes in the oven. Use skewers to make sure the body is baked. Allow to cool in the mold, then carefully cut off from the mold and tip over. The body collapses a bit in the middle, with gluten-free dough it is completely natural. After it has cooled down completely, cut the body into a plane and cut out the heart shape from it (the cutter is part of the mold). 

Fast chocolate mousse:
80 g dark chocolate 60-70%
150 ml whipping cream 33%

Dissolve the chocolate in a water bath or microwave oven and it does not want to cool completely at room temperature with occasional stirring. Whisk the cream and carefully stir in the cold chocolate in portions. Fill silicone hemispheres with a diameter of 40 mm (or another size or shape) with foam and allow to freeze. 



Raspberry Ruby Mousse:
4 g sliced ​​gelatin Dr. Oetker
80 g whipping cream 33%
80 g raspberry puree
180 g pink chocolate Ruby Callebaut
160 g whipping cream 33%

Put the gelatin in a bowl of cold water and let it soften.Put the chocolate in a bowl and dissolve in a microwave or water bath.In a saucepan, heat together 80 g of cream and raspberry puree. Peel from the stove, add the slices of softened gelatin and mix until completely dissolved. Pour twice on the melted chocolate, mixing well each time. Mix the whole mixture with a stick mixer and allow to cool to 35 degrees.Whip the remaining cream (160 g) into a semi-solid and mix in portions into the cooled chocolate mixture.



Assembling the cake
Place the silicone mold on a firm surface or tray. Pour about 2/3 of the raspberry foam into the silicone mold. Squeeze a few chocolate hemispheres into the foam and pour a little raspberry mousse. Insert the body and press lightly. It is possible that you will not consume all the raspberry mousse, depending on the height of the body and the number of chocolate hemispheres to put in the cake. Put the cake in the freezer for a few hours, ideally overnight. 

Mirror chocolate icing:
10 g sliced ​​gelatin Dr. Oetker
125 ml of water
225 g semolina sugar
150 g dark chocolate 60-70%
30 g of sifted cocoa
65 ml cream 33%

Put the gelatin in a bowl of cold water and let it soften. Put water with sugar in a casserole and boil at 103 degrees at medium temperature.Remove from the stove, add chocolate and let it melt while stirring constantly. Sprinkle with sifted cocoa, then warm cream and mix well.Once the mixture has cooled to 60 degrees, add the softened gelatin and stir until completely dissolved. Pour the icing over a fine sieve, then mix lightly with a stick mixer and pour over the sieve again. Put in a bowl, cover with foil (directly on the icing) and put in the refrigerator for a few hours to cool (ideally overnight). Then use it to 30-32 degrees before use and apply to the cake. The icing can be used repeatedly, it can also be frozen.


Finishing the cake
Heat the icing to a temperature of 30-32 degrees (in a microwave or water bath), you can remix it again for greater shine. Place a cooling grid or a mug or small bowl on a tray or larger plate. Carefully peel the cake from the silicone mold and place it on the prepared grid or mug. Pour the cake prepared in this way. Make sure the icing is really everywhere. Let the icing drip, wipe the bottom edge of the cake with a knife or palette and carefully transfer to a tray or cake mat. Decorate according to your own imagination, I chose only freeze-dried raspberries. Leave the cake in the fridge for a few hours.